Chicago Document Storage Services
Document storage services are an essential part of any business's document management strategy. With the increasing amount of paperwork generated by businesses, storing and managing paper documents on-site can be a significant challenge.
Whether you are seeking to go fully digital or transfer your document to an off-site facility, Chicago Scanning & Imaging can help you out. We can connect you with certified and secure document storage providers in your local area that can help with your specific project.
Why Should I Store My Documents Off-Site or Digitally?
Here are some of the top reasons why businesses in Chicago and the rest of the nation are choosing to switch to digital or go off-site.
Space-saving: Storing paper documents on-site can take up valuable office space that could be better used for other purposes. Both off-site document storage and digital storage allow businesses to free up space and make their offices more efficient.
Security: Keeping sensitive documents on-site can put them at risk of theft, loss, or damage. Off-site document storage facilities have strict security measures in place to ensure that your documents are safe and secure. Digital storage typically comes with encryption capabilities and other highly-secure features.
Disaster Recovery: In the event of a natural disaster or other unforeseen event, on-site documents may be destroyed or lost. By storing documents off-site or digitally, businesses can ensure that they have a backup copy that can be retrieved quickly and easily.
Compliance: Depending on the industry, there may be specific regulations that govern how documents should be stored. Off-site storage facilities can help businesses comply with these regulations and avoid costly fines. With digital documents, records are stored for however long you need them.
Cost-effective: Off-site document storage can be a cost-effective solution for businesses, especially those with large volumes of paper documents. By outsourcing document storage, businesses can avoid the costs associated with on-site storage, such as rent, utilities, and maintenance. Digital documents can cost more upfront (scanning costs) but tend to be less expensive long-term.
Benefits of Professional Document Storage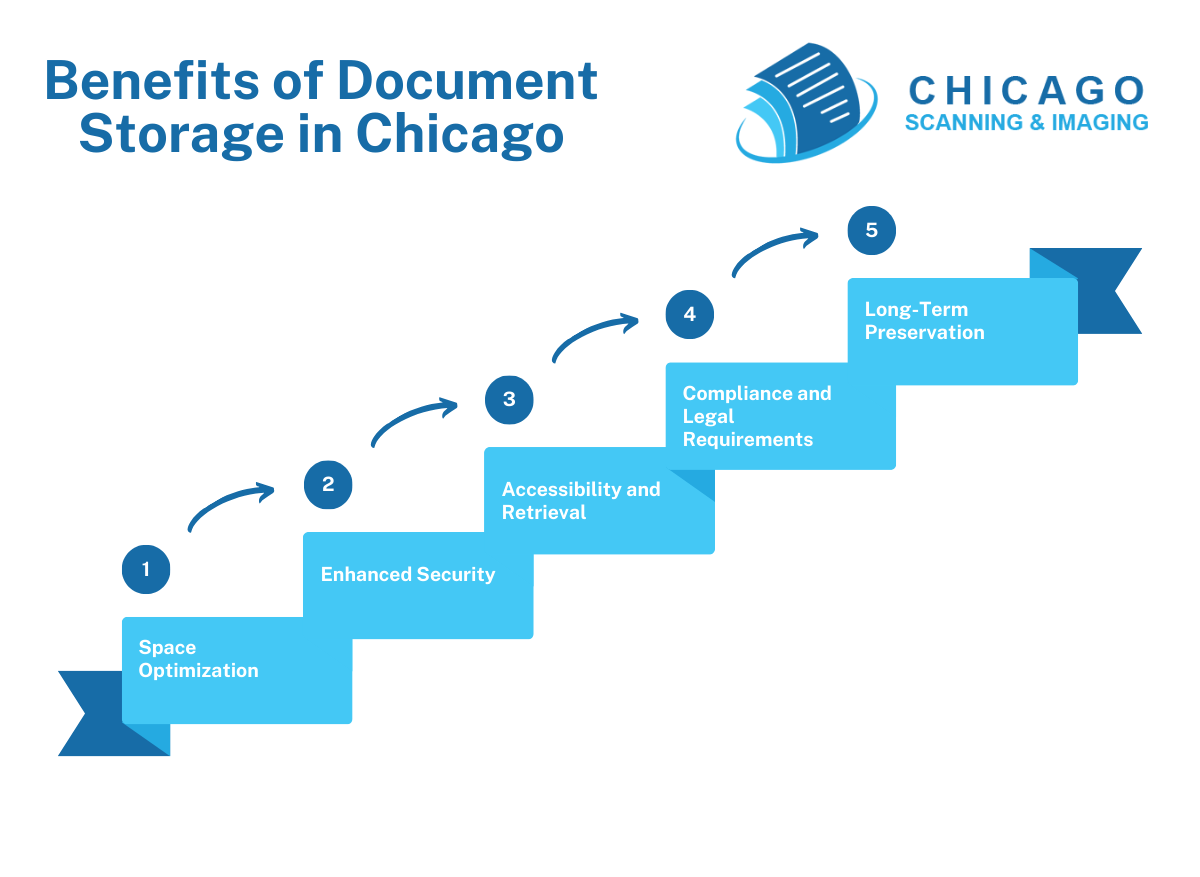 Security – Climate controlled facilities are secure and monitored. Private documents are kept away from employees, in a secure facility.
Trust – Built trust with clients, customers, and employees when they know their personal information is being stored safely.
Peace of Mind – Put an end to worrying about storage space and security by choosing a professional San Antonio provider.
Efficiency – Stop sorting through old files and keep only your most frequently used documents at the office. Storage facilities can even scan documents to you as-needed.
Compliance – Protect documents in the best way possible and create a document retention schedule with your provider to better comply with local, state, and federal regulations.
Get Free Quotes on Document Storage Services in Chicago
Contact us today to learn more about our document storage services in Chicago and let us help you find the perfect solution for your document management needs. Give us a call at (312) 637-9122 or fill out the form.
Frequently Asked Questions
What types of documents can I store with Chicago Scanning and Imaging?
Document Storage supports a variety of file types, including documents (PDFs, Word, etc.), images, videos, and more, allowing you to securely store and access your files from anywhere.
Is my data secure?
Yes, your data is highly secure. Our partners employ robust encryption protocols to protect your files during transfer and storage. Our offsite storage ensures that your documents are safe from physical threats.
How much does document storage cost at Chicago Scanning and Imaging?
At Chicago Scanning and Imaging, our document storage services typically cost anywhere from 50–95 cents per box, per month. The pricing varies based on the size of your project and factors such as the type of documents, pickup and preparation work, and any additional security measures or document management solutions tailored to your business.
What types of documents can you store at our records storage facility?
The records storage facility accommodates a variety of documents and items, including:
Paper
Film
X-Rays
Microfilm
Discs
Magnetic Tapes
What industries are best suited for document storage services?
Industries that require commercial records storage services include those dealing with large volumes of physical and digital documents, such as:
Healthcare
Banking and financial services
Architecture and engineering firms
Creative industries–film, photography, publishing, etc.
Professional services like legal, marketing, and accounting
Social services
Insurance companies
Manufacturing
Transportation and logistics
Education
Retail
Automotive
Federal, state, and local governments
and more.